Winter Steam Photo Weekend Spectacular
Historic Railroad Steam Engines, Rolling Stock, and Maintenance Equipment
Enjoy a weekend with our winter trains
If you think you were born one hundred years too late to witness the glory of steam railroading, then we have good news for you: you weren't. There still exists a place where steam locomotives rule the rails.

Hidden away in the high desert of east central Nevada is a time capsule like no other, the Nevada Northern Railway National Historic Landmark. Annually during the first two weekends in February, time travel is possible. Come to Ely Nevada, set your watch back a century, and photograph railroading as it was in the last century.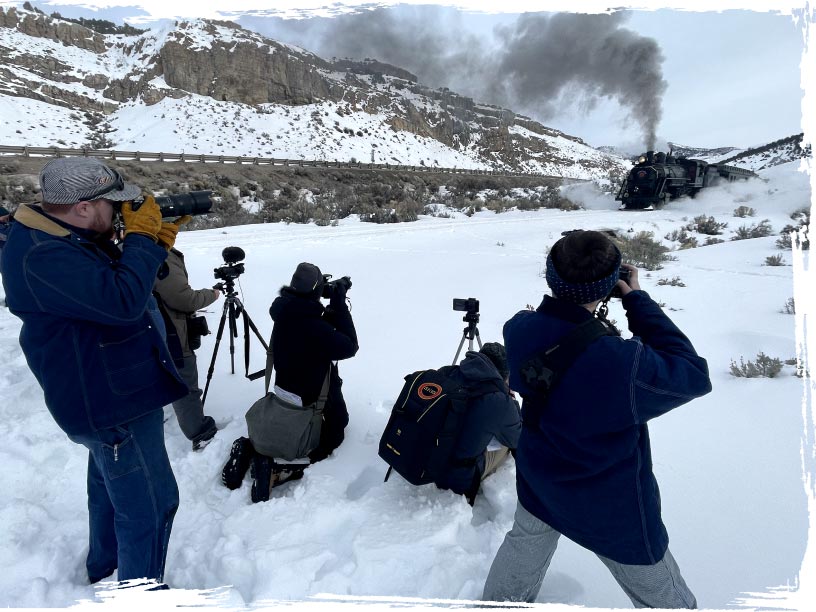 What can you expect during the photoshoots?
World-class photographic opportunities, steam locomotives pulling vintage freight and passenger cars that are original to the railroad. Here, trains are still made up with wooden cars whose origins date back as far as 1872. The crews will be in period dress, adding to the experience.

So why come to Ely in the winter? If you think that Steam locomotive 93 looks good on an 85-degree day in August but wait till you see it on a frosty February day. Billowing white clouds of steam plus plumes of black & gray smoke towering above the canyons and valleys. Snow? Weather here can be capricious! It can range from blizzard conditions to cobalt blue skies sometimes within minutes. In the past we've experienced every type of meteorological conditions that wintertime Ely experiences, including shirtsleeve weather. But regardless of the weather, the show goes on.
Why choose the Winter Steam Photoshoot?
Participants have won numerous photo contests, recording timeless scenes of a historical railroad that are second to none. Many of the "Winter Spectacular" photos rival the best that National Geographic has to offer.

Of course locomotives, rolling stock and tracks are a big and obvious part of this railroad. But its just part of what makes a railroad work. You also need the infrastructure: Enginehouse, machine shop, carpenter shop, blacksmith shop, depot and dispatcher building. Oh and don't forget, the locomotives go nowhere without stopping at the coaling tower and water standpipes. We have those too, the original ones!
What will we have running for our upcoming photoshoot?
We'll have steam pulling our original wooden passenger consist made up of a RPO/baggage car and passenger car. This consist has been serving passengers and departing from this depot for over a century now.

Should there be a mishap on the tracks here, we'll send for the big hook; our original century old operating steam powered wrecking crane. Don't worry - even if there is no mishap we will stage one to demonstrate the big hook in action, under steam

Once the tracks are cleared, it's time to get on with the business of railroading. Freight trains can once again roll and so will ore trains. We will roll our fleet of original ore cars with our original locomotives.

No self respecting railroad would be without boxcars - and the NNRY is no different. A fleet of our original wooden boxcars with arch-bar trucks, built in 1912 are in top condition and are ready for their next load.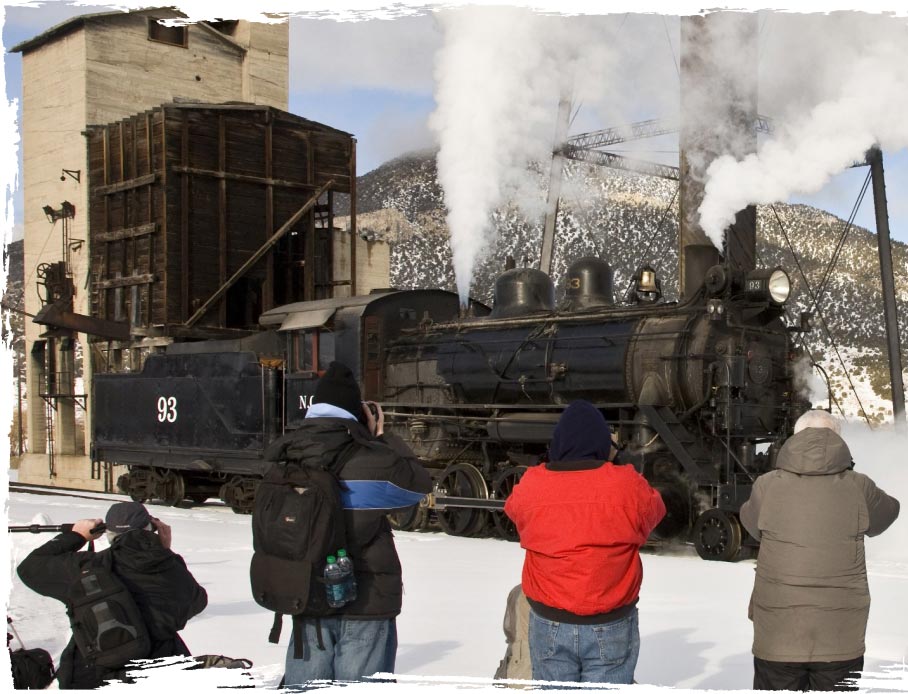 Frequently Asked Questions
You may also want to consider our Still Photography Workshop.

Advanced reservations are strongly suggested since this event usually sells out.

Do not drive to Ely unless you have a confirmed reservation.
Winter Steam Spectacular 2023
Member
Non-Member
Either Weekend
$638
$750
Both Weekends
$1,020
$1,200
Still Photography Workshop
$995
$1,170