Hands-On History - Become a Diesel Engineer for a Day An experience you are going to remember forever.
Be the Engineer - Your Hand on the Throttle
Yes, you can drive a Diesel locomotive. Sign on as a Nevada Northern Railway diesel locomotive engineer for a day. You (and a friend, if you like) will climb on board and experience what railroading is really like from the cab of one of our diesel locomotives. The locomotives we use for these runs are our original road diesels that have decades of real revenue experience here on our mainline hauling ore.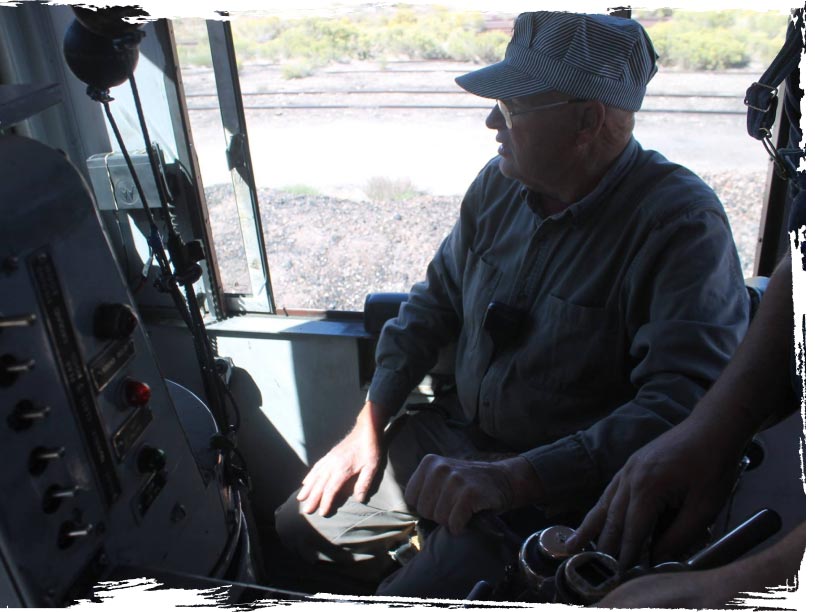 You begin your engineer experience by studying the safety training materials that our regular and volunteer crews learn.
Download Materials.

When you pass the basic test, you head down to the century-old Enginehouse and help prepare your locomotive for the day.

Climb into the cab, and learn how to operate the iron horse. Your mentor engineer will show you the ropes as we move the locomotive out of the engine house, through the yard, and out onto the original NNRY mainline.

It's then your turn! Climb up into the engineer's seat and receive personal instructions from your mentor engineer on controlling the throttle and brake. Once the basics are under your belt, the moment comes for you to sound the whistle, have your hand on the throttle, and head up the mainline toward the mines.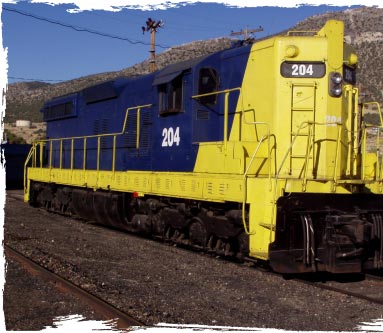 There are several options available. You can take control of one of the vintage steam locomotives, or one of the vintage diesel locomotives, or operate both. You can also choose to operate the locomotives with the train or without it. Most people come and take the locomotive out without a train attached. It is an easier way to start, and requires less training.
Frequently Asked Questions
The prices displayed are for the Engineer Experience. That can be one person, or two people sharing the experience.

These prices represent our best estimate for the long-term sustainability of the locomotives, right-of-way, and maintenance facilities. We are an independent non-profit foundation that relies on your continued patronage to sustain the programs here.

A portion of the program cost may be tax deductible. Hover over the prices below to determine the amount that you can speak to your tax advisor about. We will provide a receipt when you purchase an event.

Members receive discounts.
Memberships start at only $30.
No other discounts apply to this experience.
Be the Engineer Options
Member
Non-Member
Diesel Locomotive Only - mainline 14 mile round trip
$760
$895
Diesel Locomotive freight train - mainline 14 mile round trip
$1,913
$2,250
ALCO and EMD Diesel Locomotives - 2 trips
$1,275
$1,500
Ultimate Package - Steam & Diesel - Locomotives Only - 2 trips
$1,696
$1,995
Supreme Package - Steam & Diesel - Locomotives with trains - 2 trips
$3,953
$4,650
Available Dates and Tickets