Our Available Train Rides
Tickets for sale will be available soon..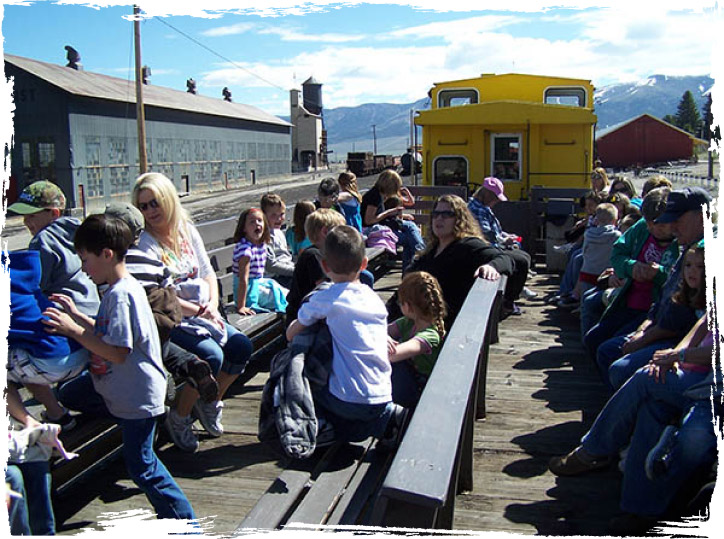 Join us for a trip back in time when the iron horse ruled the rails. The Nevada Northern Railway is a living, breathing, operating historic railroad. Historic steam engines are still in use here year 'round, so come, enjoy history with us!
You will have your choice of coach or open-air seating, or feel free to roam between the two. A hat and sunscreen are advisable for the open-air car. Bring a jacket along for the evening trips. We are over a mile high in elevation, so weather is generally mild, but sometimes unpredictable.
Each trip takes about 90 minutes. Our trains feature on-board restroom, wheelchair accessibility, and snacks and beverages available for purchase.
Want to choo choo choose a better spot on the train?
To enhance your Excursion Train Ride Experience, you can choose any of the additional options like Ride in the Caboose or Ride in the Cab with the Engineer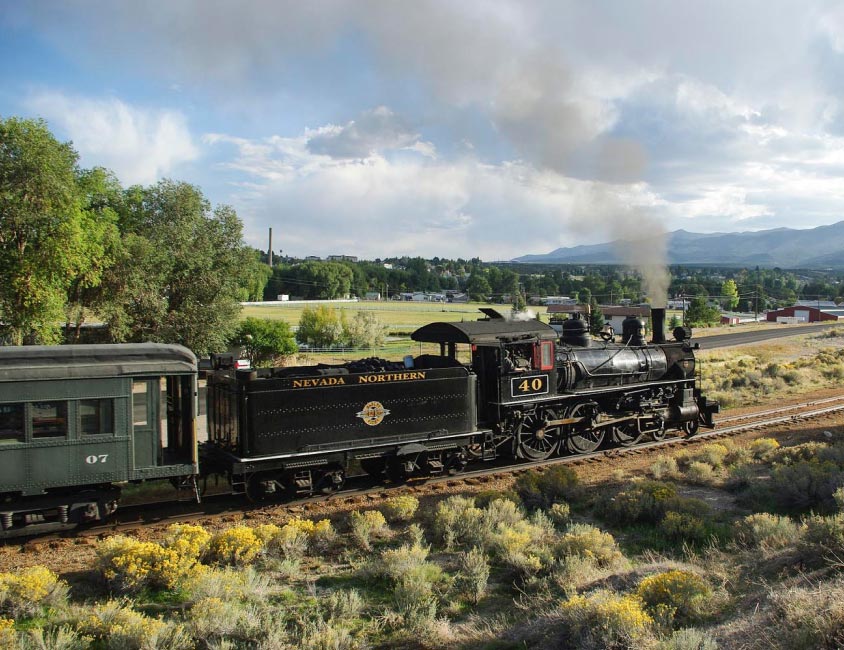 The Queen of Steam Returns
In 2001, it looked like 40 might be sidelined for good. The Federal Railroad Administration issued new boiler rules and 40 was relegated to the engine house gathering dust.

In February 2005, locomotive 40's whistle resonates across the Great Basin, repeating an audible announcement that dates to 1910—the Queen is under steam!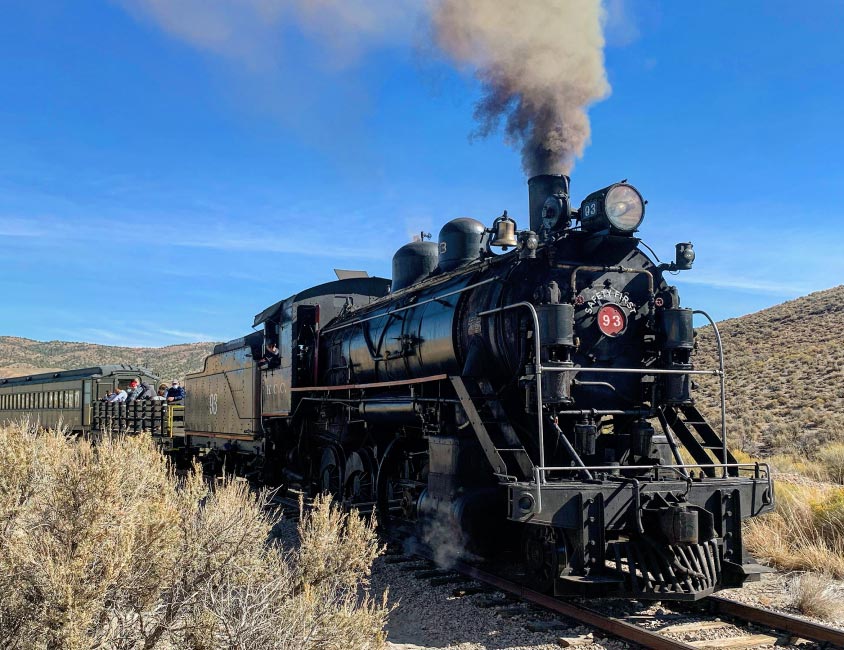 Locomotive 93 was the last of four locomotives ordered for ore line service by the American Smelters Securities Co. (a Guggenheim entity) for the Nevada Northern Railway. Built in January 1909 at the American Locomotive Works Pittsburg plant (construction number 44604), there is only one reason that she not only continues to exist, but she also still steams, and that is luck! Think about it.

Locomotive 93 is still doing today what her designers and builders envisioned over a century ago! She is still steaming, still hauling trains and still making money for the railroad.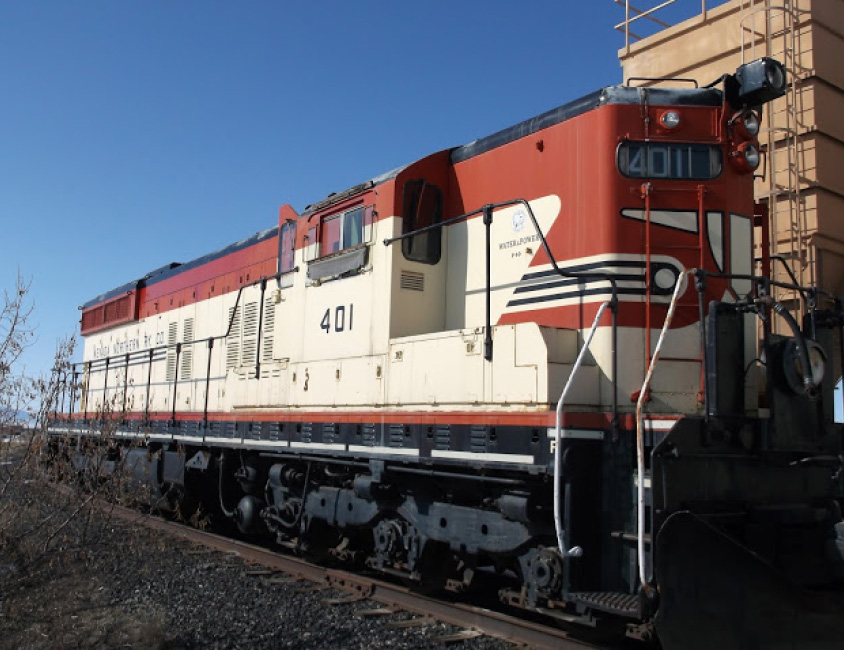 NN 401 was constructed in August 1952, builder number 16842. She is a type C-C road-switcher & weighs a very attractive 296,000 lbs. The 401 remains the only SD-7 model unit ever purchased brand-new by a railroad.

Yes, 401 was a very busy lady back in those days, tirelessly running the full-day round-trip up to the transcendental connection points as well as regularly working day-in and day-out. Then came the sad day in 1983 when the railroad closed its doors seemingly for good. Due to it's last and final service she earned the title of The Last Empress of Ely.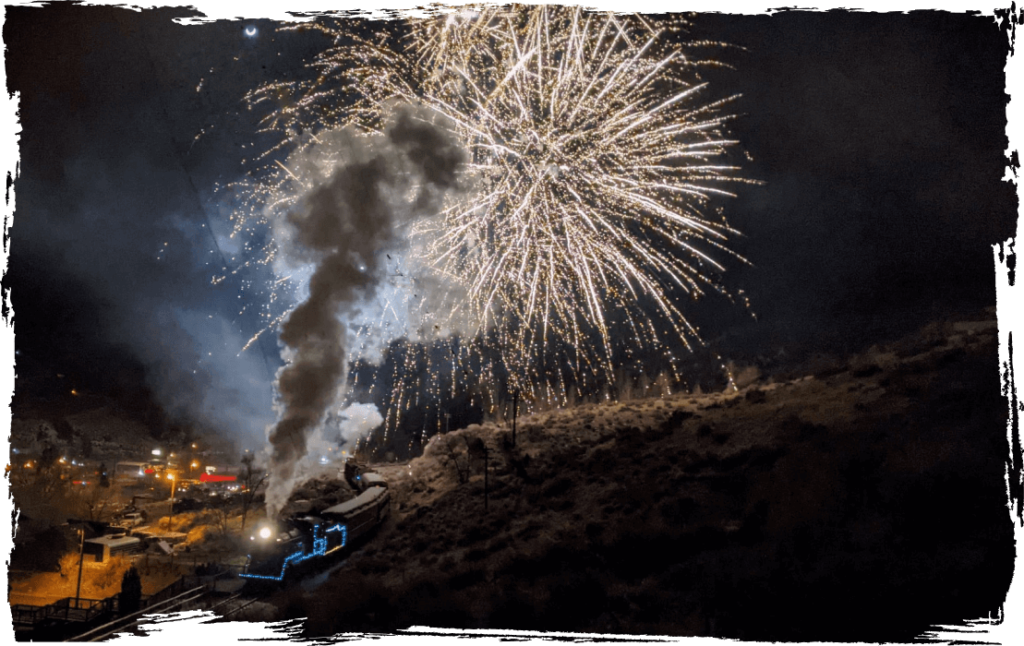 Where can you see fireworks shot off a moving steam train? Only in Ely! The Fireworks Express at the Nevada Northern Railway leaves the Depot at 4:30 p.m. in mid-January. Fireworks are set off after nightfall. Get your 'front row' seats to the fireworks. Like many of these special trains, this annual train is generally a sell-out, so book early.
Join us for perhaps Ely's very best Forth of July party! We start the evening with a trip "Up the hill" toward the Ruth Mining District. On the way back we stop the train at a perfect viewing location to see Ely's Fourth of July fireworks display. Either watch from the train, or bring your own lawn chairs. It's a fun way to celebrate this Independence Day evening as a group with your train friends.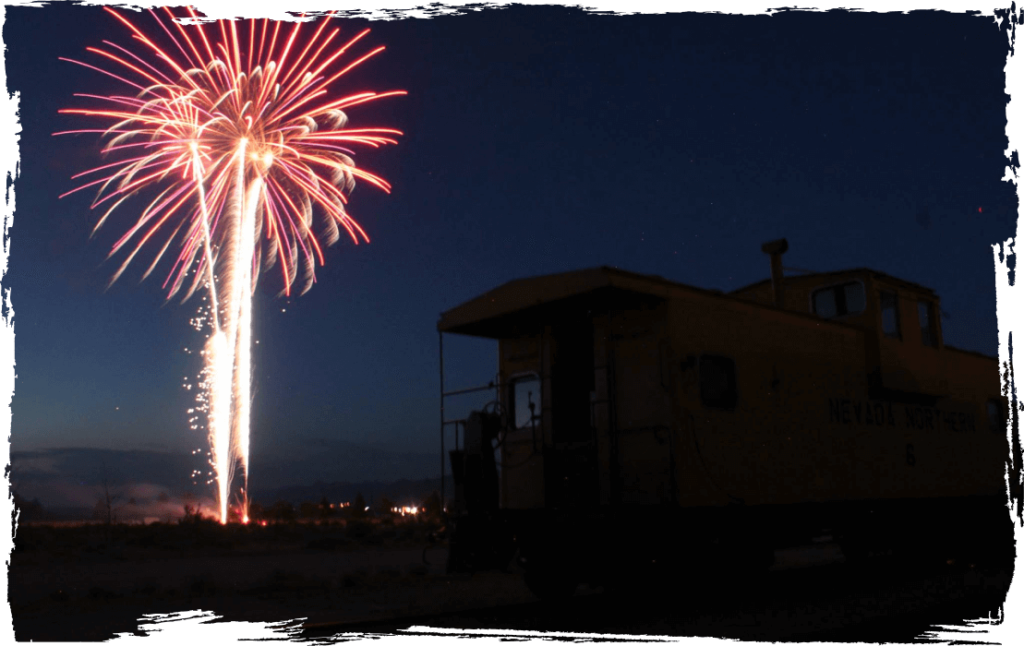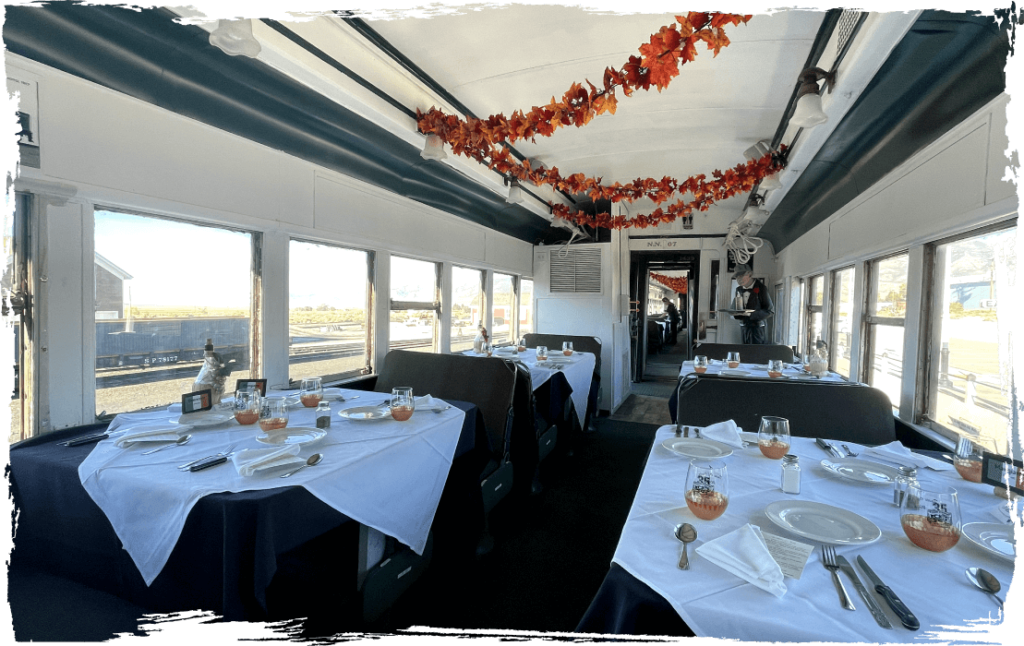 Taste of Italy Dinner Train
This is an annual gala fundraiser for the railroad. Your coaches will be pulled by one of our century-old steam locomotives for a special dinner trip on the Nevada Northern Railway mainline. It will be our pleasure to serve you a classic, multi-course Italian meal, complete with flowing wine, and dessert. Adults only on this train.

Taste of Italy Train Ride is sponsored by:

The Gianoli Family
First National Bank of Ely
Hector Briceno & Isela Suarez of Ely's own Mr. Gino's
Enjoy a steam powered train ride to the pumpkin patch. At the end of the track the train will stop, the conductor will let the passengers off to be greeted by the pumpkin patch and a photo op area is available for a small fall-themed celebration photograph. Passengers will get to choose a pumpkin from the patch to take home with them. The Pumpkin Train runs Oct. 7 and Oct. 14 at 1 p.m. Tickets are $45 for adults, $38 for seniors and $20 for children ages 4-12, while children under four ride for free.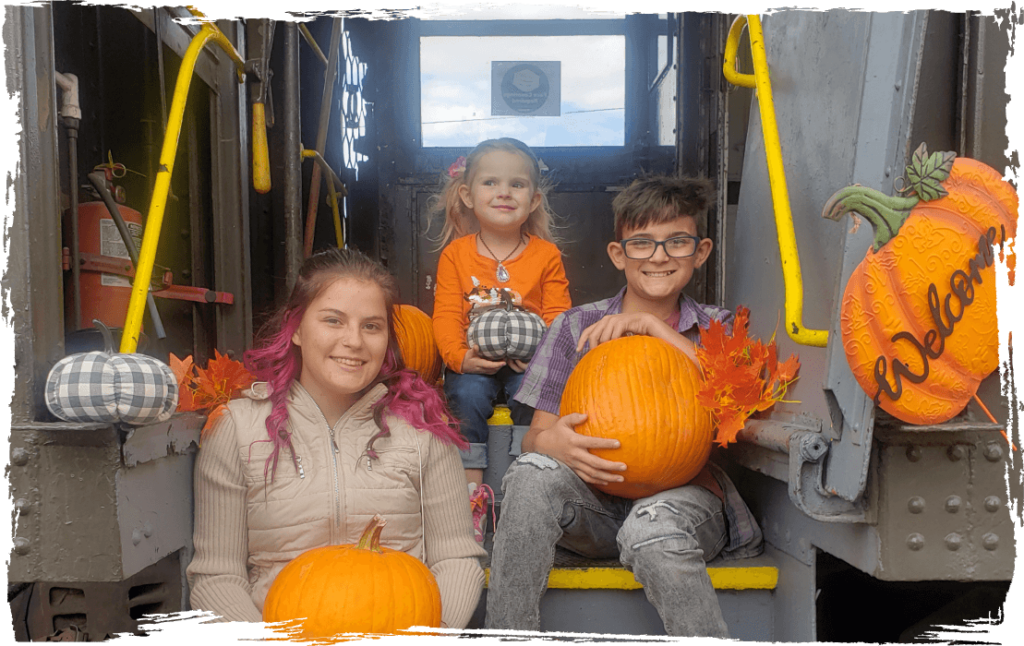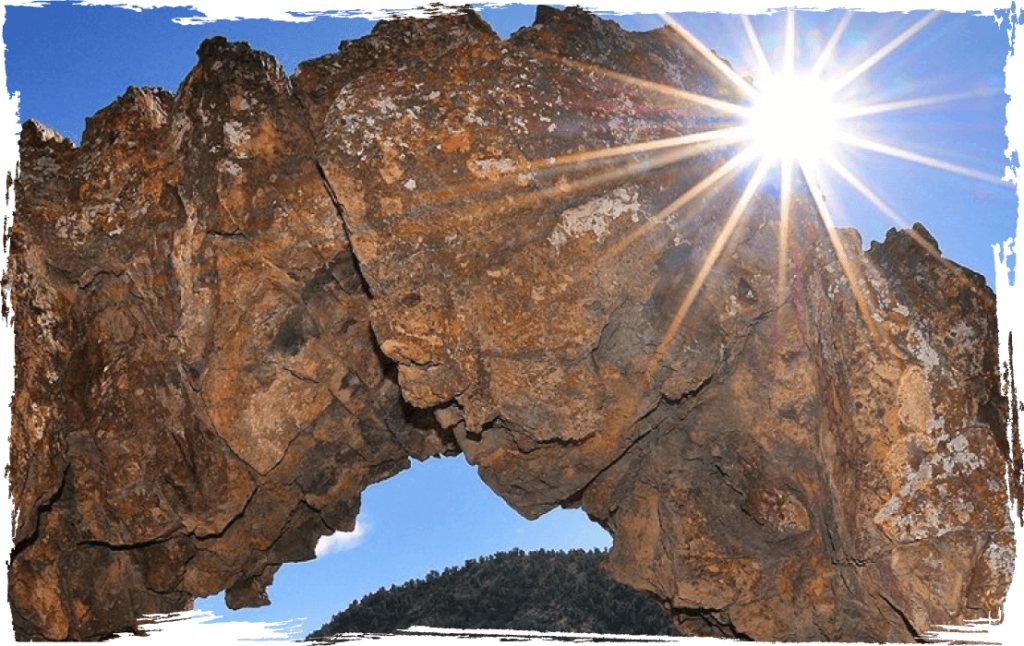 Rockin' & Rollin' Geology Train
But wait...remember back in 6th grade science class when they talked about that big blob of molten Earth swirling around in space? That is, until it cooled enough to support fast-food franchises, legos, and other evidence of advanced life forms. Why, with all of that swirling around, did all of that copper, gold, and silver coagulate here, in the Robinson Mining District, for us to dig out and use to build a nation?

We won't solve all of the Earth's great mysteries on this trip, but we will have a lively presentation by a local geologist talking about the mining history here, how railway entered the picture, and a show and tell with real ore samples.
Pull out your Zoot suit and beaded fringe dresses for a swinging good time aboard the Roaring 20s Limited. Enjoy a 90-minute steam powered train ride aboard vintage 1920s passenger cars. Quench your thirst at the speakeasy onboard (alcoholic beverages available for passengers 21 and older, non-alcoholic beverages also available) while listening to big band hits. Along the route, watch out for the notorious local gangsters who have been known to hold up the train, not to worry, Pinkerton agents will be sure to restore law and order in no time!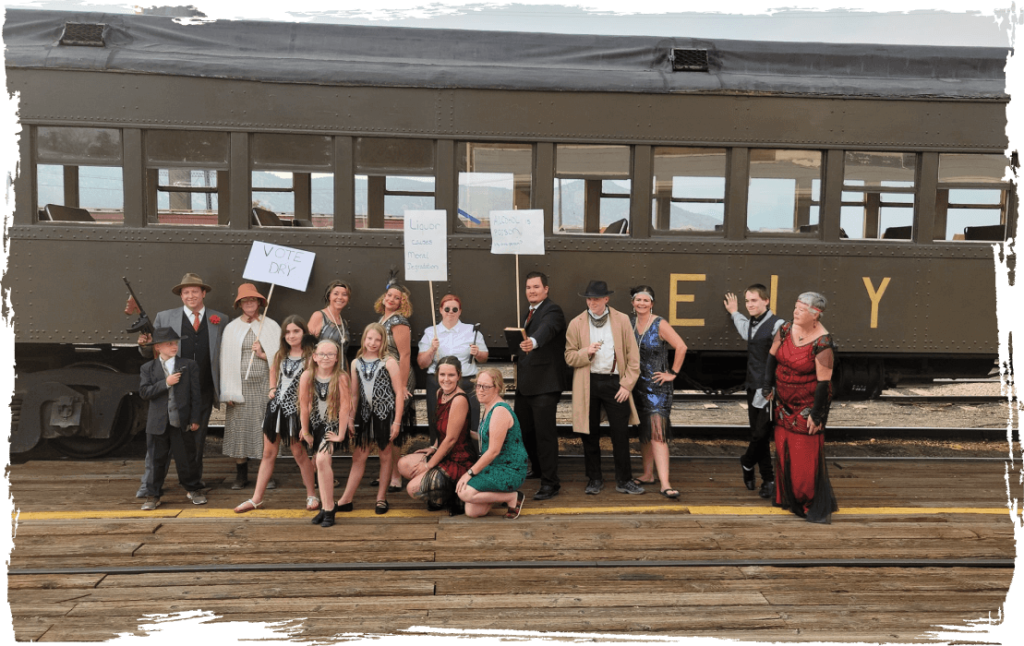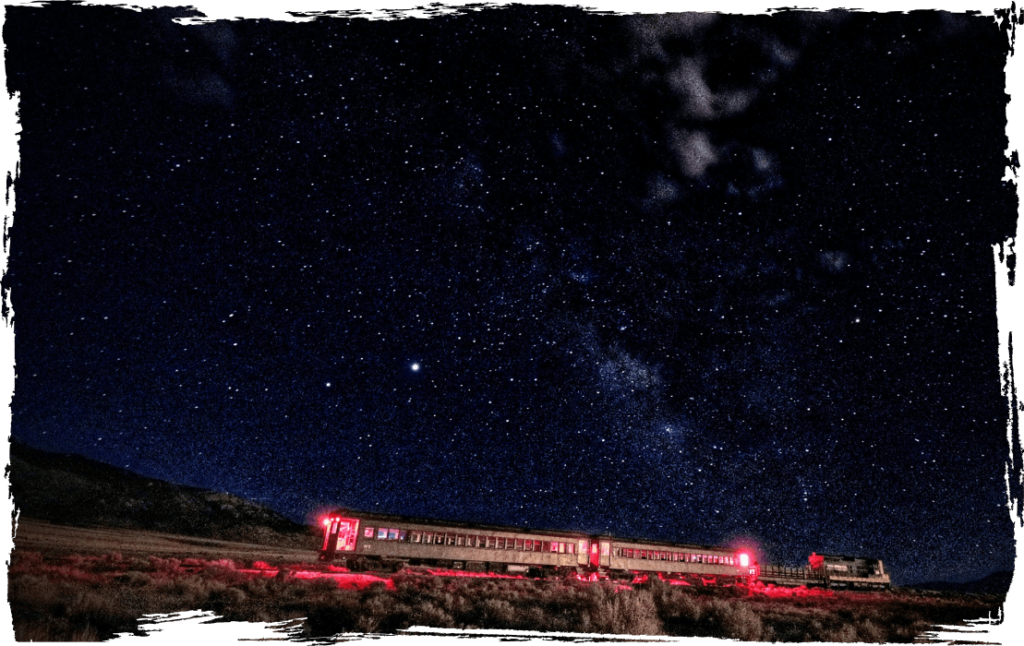 For those of you who aren't fortunate enough to live up here in the inter-mountain rural West, you are missing our breathtakingly beautiful night sky. For those of you who live in these parts, you may not have taken the time lately to stop and gaze at the Heavens. Either way, plan a special night out with those beautiful stars of ours.

Our star train pulls out of Ely with the Dark Rangers of Great Basin National Park aboard. These rangers love the night sky as much as we do, but probably know a whole lot more about stars than all of us put together. They will guide us to find interesting things up in the Heavens on this journey. We will stop the train away from town and have a special telescope for viewing the night sky.
Sunset, Stars, and Champagne
Experience a marvelous western sunset and watch the stars come out, while enjoying a relaxing train ride in Nevada's high desert country. The train takes you out into the desert, above Steptoe Valley, giving you a wonderful panoramic view of the sunset. On the return trip, enjoy looking up at the stars, as they come out in the heavens above. Weather permitting, you should be able to clearly see the heavens with your naked eye. Bring your smartphone to help orient you to the night sky. Please note, we do not bring telescopes on this train.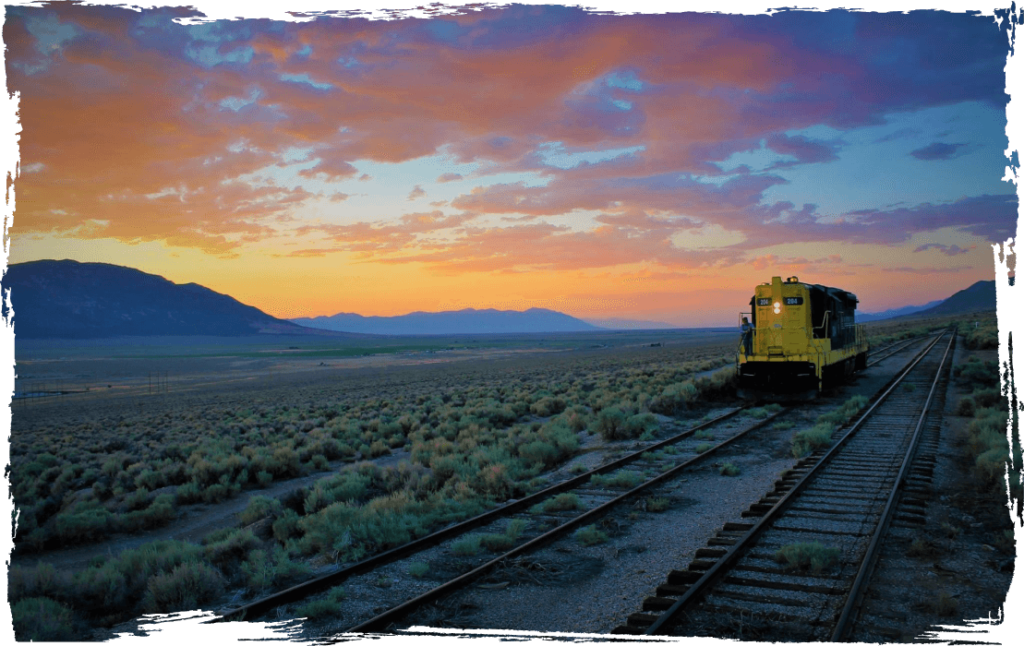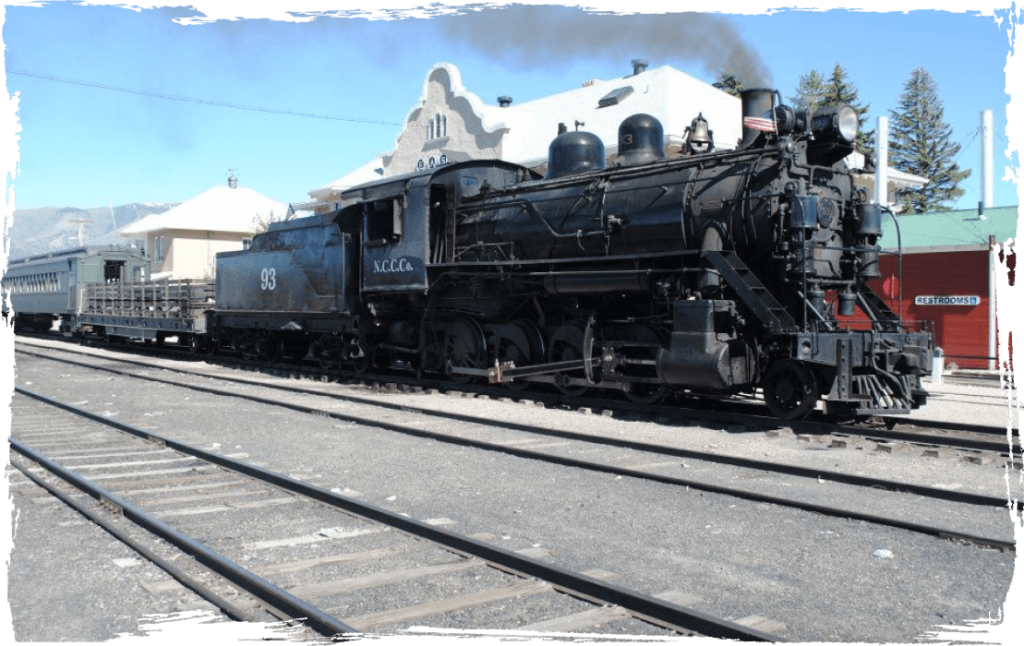 Join us for an informative ride back in time. As we travel behind one of our historic steam locomotives out Robinson Canyon and up toward the Ruth Mining District, we will learn about some of the early history of While Pine County and the State of Nevada, starting with the Pony Express route that traversed Nevada, linking the country together in 1860.
Prepare yourself for a scary trip as we dare to send our haunted train up the hill on selected weekend dates in October. Ghost stories come alive, so-to-speak, as we see zombies, ghosts, ghouls, aliens and maybe even Big Foot. You never know what's around the next bend, and we've been sworn to secrecy. See for yourself! Costumes are encouraged unless you're just naturally scary.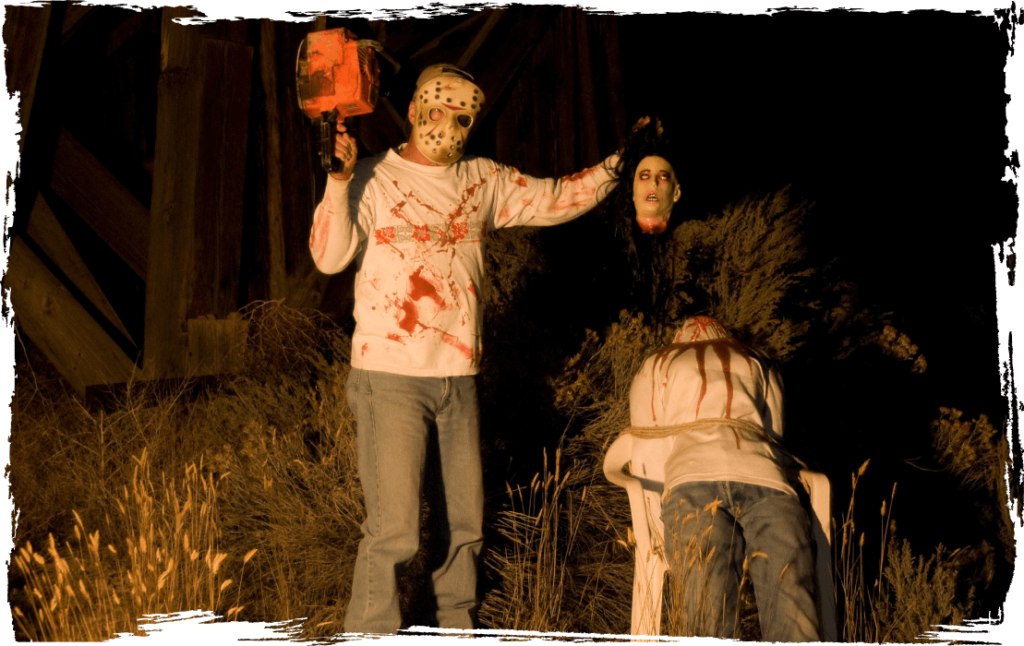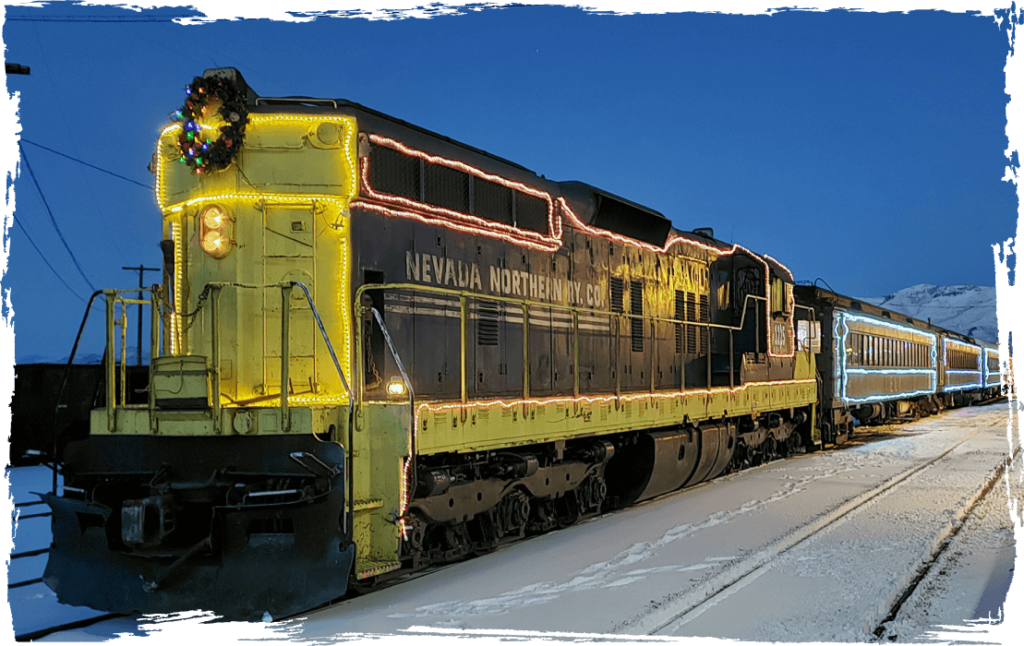 Join with us as the most magical train of the year, Santa's Reindeer Flyer, once again heads to the North Pole to visit with Santa Claus. Everyone knows that Santa loves trains so it is only natural that you will find Santa here, on the Nevada Northern Railway. On the trip to the North Pole, we serve hot chocolate and cookies.
The transportation of copper ore between the mine at Ruth and the Smelter at McGill became a lifeblood for the town of Ely. This 90-minute excursion on the Robinson Canyon route will explore the history of copper mining in the region, the development of the town through immigration and the role the railroad played in the daily lives of Ely's residents.