Cook a meal on the Fireman's Shovel of a steam locomotive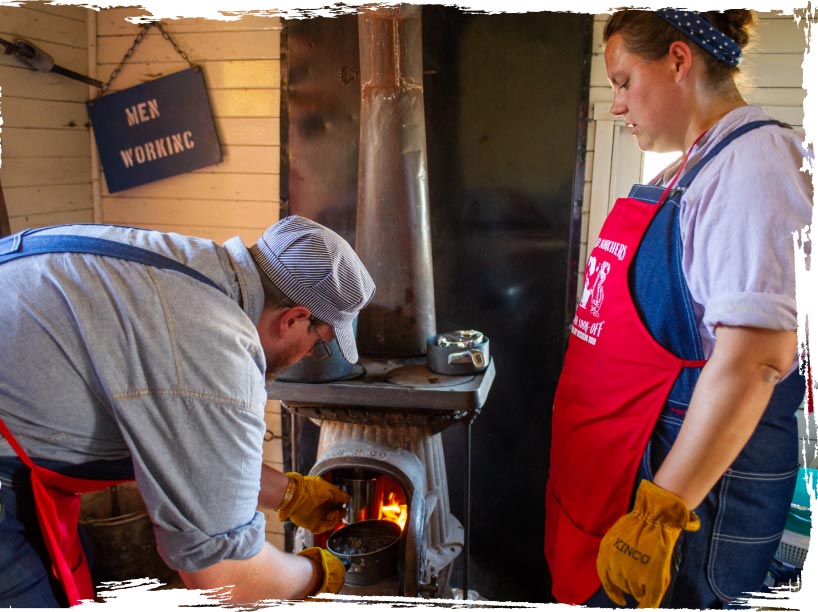 It's true that our mission is about preservation
We have been acclaimed as the "Most authentic and best preserved historic railroad facility in America But it isn't just about preserving the equipment. That's an important part of it, but we also are all about preserving the stories of the people, mostly first-generation immigrants, who worked here.

We did not invent cooking in the firebox of a steam locomotive here. That was the ingenuity of early train crews. "During the day" train crews worked long days - sometimes 16 or 18 hours in a single day. They could not take a break and go get breakfast, lunch, or dinner. The lived on the locomotive during their shift. They improvised food as they could, and often cooked on the locomotive.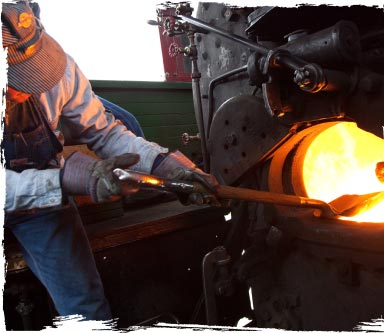 Iron Horse Cookery Cookbook
We created the Iron Horse Cookery Cookbook to remember and honor these hard-as-steal railroad people who helped build America.
In the mean time, take a look at a few of the videos to "wet your appetite" for more
We would love to have you "like" and subscribe to our YouTube channel. There's more to come!
Frist things first. Let's start with your shovel. Just like your trustworthy cast iron frying pan at home, seasoning a new shovel is a critical first step.
Cooking Bacon on Locomotive 40
Bacon. Yum! This is a great place to begin. Not only do we get instant gratification, but it will also help to further season the shovel for all that is ahead on this adventure.
Eggs ala Shovél on Locomotive 40
Eggs can be tricky. Let's see how it is done right! Our Firebox Chefs have upped the ante on this one, rivaling the best Egg service this side of Paris.
This Dutch Oven delight is stove-top breakfast that combines all of the important food groups - Sausage, Hash Browns, Eggs, and of course, CHEESE. Just wait until you take the lid off the finished meal. Come hungry and leave satisfied.
It's all about timing. A nice pink center is very achievable in the firebox.
Let's go back to the caboose and do some cook'n on the cabooses iron belly stove in a Dutch oven. Nothing like some good, hot chili in the caboose on a rainy day.
We aren't actually going to give any of this fine stew to the hobos. They are going to have to fend for themselves out in the rain. As for us, we're using the Dutch oven again to prepare a stew from fresh ingredients.
This is the signature dish that is featured on many of the articles on our Iron Horse Cooking series. Learn how to make it yourself. We demonstrate how to do it on a snowy winter day here in Ely. Nothing finer than some nice, warm hash for lunch on a snowy day.
Firebox Chili and Cheese Fries
Who says that everything we cook in the firebox has to be healthy? The Chili and Cheese fries are fast to prepare, quick to cook, and yummy to eat. What could be better?
In this episode, we make Switchman's Tacos. Tacos? Hot and fresh out of the Firebox? For sure!! These are the favorite of the switchman because they are warm and hits the spot after climbing up and down the locomotive all day to throw the switches. Do you think there will even be one left when the switchman returns?