Spend a week this Summer workin' on a National Historic Landmark railroad, and the best preserved standard gauge railroad in America.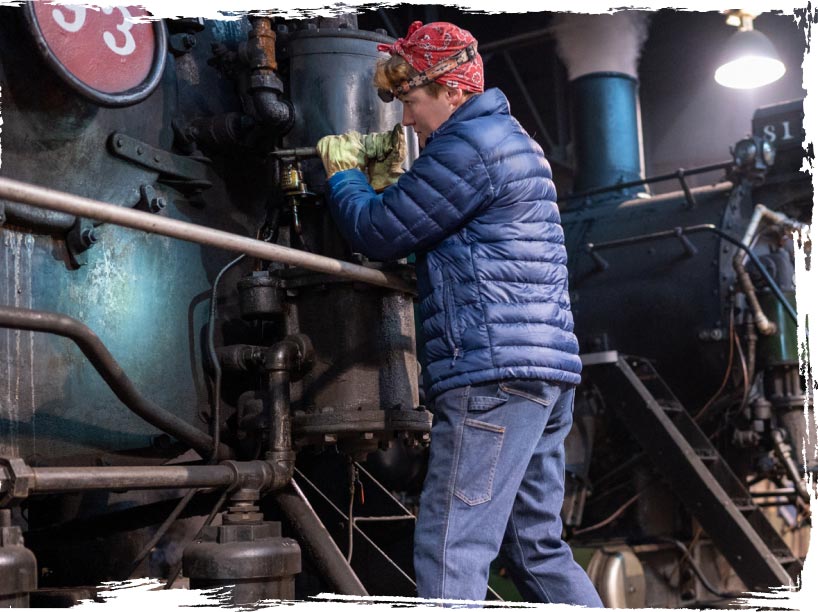 What does the Railroad Reality Week offer?
Experience what it was like during the golden age of railroading. Become an integral part of the preservation in-progress.

You begin the camp by attending our rules and safety training. And yes, you will be tested on the training materials. After training and testing you will rotate through train operations, working in the shop and out on track.

As part of the crew you will help get a train over up the hill and back again safely. In the shop, you will get hands on experience maintaining the locomotives and cars. It is dirty, oily, greasy work. Without it, trains don't run. As part of the track crew, you will see up close what it takes to keep the railroad running.

Everything comes together at the end of the week. You are part of the switch crew that make up a train in the yard. You'll rotate through the positions of engineer, brakeman and switchman. The training from the week will now make sense as you couple up and move the cars.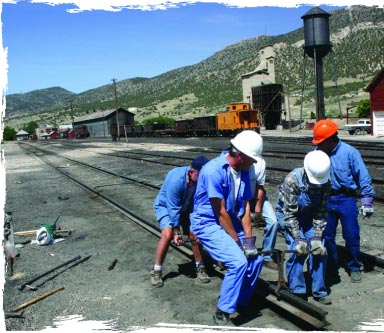 Why choose Railroad Reality Week?
At Railroad Reality Week you will have the greatest adventure of your life! It's hands on, intense, and takes you behind the scenes on what it takes to keep a railroad running, but feel free to take it a pace that is comfortable for you.

Come and be part of it this Summer.
Railroad Reality Week Requirements
The Nevada Northern Railway is an operating 19th century railroad with all the dirt and grime, you'd expect. We ask that you bring clothes that you can get really, really dirty. You will need work boots and work clothes that can hold up to dirt, sweat, and grime. You will also need at least one long sleeve cotton shirt to be worn in the cab of the locomotives. Bring sunscreen, sunglasses (or clip-ons), and a hat for when you are out in the sun. If you wear glasses, please bring a pair of safety glasses or goggles that will fit over your glasses.
The Nevada Northern will provide hard hats, safety glasses, and work gloves, although you are welcome to bring your own. You will also receive the Nevada Northern Handbook of Operating Rules and a binder with information on the surrounding area as well as history of the railroad, mining, and track repair information.
Friday
Arrive 4:30 p.m. Welcome train ride and introductions

Saturday
7:45 AM – Railroad safety and rules training with NN Ry crews Sunday
8:00 a.m. – Railroad safety and rules training with NN Ry crews
1:00 p.m. Railroad safety and rules test Open

Monday
8:00 a.m. Work Day – Track, Shop or Operations (in rotation)

Tuesday
8:00 a.m. Orientation – Video Ore to Copper; History of the Nevada Northern Railway. Morning Director's tour of the National Historic Landmark.
1:00 p.m. Tour of Robinson Copper Mine

Wednesday
8:00 a.m. Work Day – Track, Shop and Operations (in rotation)

Thursday
8:00 a.m. Work Day – Track, Shop and Operations (in rotation)

Friday
8:00 a.m. Operate a diesel locomotive; switchman; brakeman Operate Speeder and Velocipede
1:00 p.m. Tour of depots
4:30 p.m. Caboose Ride and Pizza
6:00 p.m. Graduation and Group Photos

Saturday
11:00 a.m. Ride on train for all attendees and their families Please be advised that the schedule may change due to operational considerations.
Second Registrant Discount: We have had friends, couples, and parent/teen Duos enjoy this week-long experience to be together.

$450 Discount if you also register a family member or friend and enjoy the experience together.
2023 Railroad Reality Week Prices and Options

| | Member | Non-Member |
| --- | --- | --- |
| Single Participant | $1,275 | $1,500 |
| Two Participants (couples or parent/teen) | $1,955 | $2,300 |