Reach out with questions we are always here to help!
x1: Ticket Office, General Information, and Train Schedule
x2: Gift Shop and "Be the Engineer" Experience
x3: Groups / Charters, Accounting, AP
x4: Membership Information / Curator
x5: Buildings and Grounds Manager
x6: Mechanical and Track Dept
x7: Mark Bassett, President
x8: After-Hours Emergency Numbers

How to get here: Air, Road, or Rail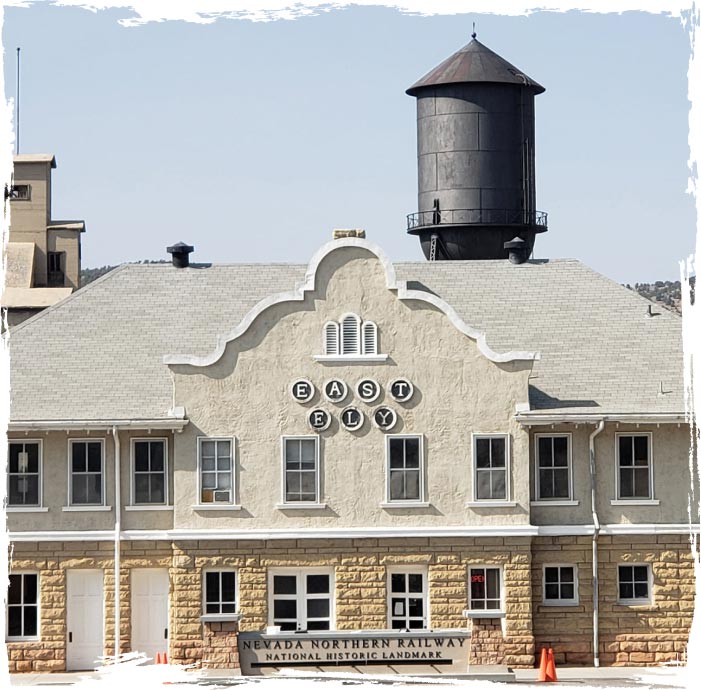 Getting to Ely, Nevada by Air
Ely has an airport with a great all-weather runway that can easily accommodate a 737. As of the last update to this webpage commercial air service has been suspended. If you have your own airplane (or a good friend that does) make Ely your destination. Car rental is available in Ely or transportation from and to your hotel and the railroad can be arranged. Give us a call at 866-407-8326.
Either the Las Vegas or Salt Lake City airports are about 245 miles from Ely. It is about a three and a half hour drive through some great, rural Inter-Mountain West scenery. Reno is another option. It is about 300 miles. Elko, NV is the closest airport with scheduled flights. See? We warned you that this place is really, really remote..... but so worth the trip.
That would have been us, the Nevada Northern Railway, 80 or even 100 years ago. Every single day of the year, rain or shine, wind or snow, we would have several passenger coaches and locomotive #40, with her tender completely full of coal, spotted right here at our East Ely Depot, ready for the 260-mile round-trip up to the transcontinental connection points and back.